Aloe Vera, Rosemary and Ghassoul Natural Soap
The Aloe Vera, Rosemary and Ghassoul Natural Soap will provide your skin with extra hydration, accompanied by a good aroma and an unequalled softness. You will feel that your skin will be much less dry, clean and without excess oil. In 100g of soap you can find the solution to what your skin is asking for. Having combination or oily skin will no longer be a problem. 
All this is possible thanks to its properties. It contains 16.3 – 17.4% pure aloe vera taken directly from the national plantation, which is organically grown. This amount of aloe vera will moisturise, soothe and cleanse your skin. In addition, it contains healing properties, so you can use the product even if you have wounds on your skin.
Rosemary and ghassoul clay are other properties that will deeply cleanse your skin, removing all impurities and giving it a better appearance. It is recommended to use it on the parts of the body that store most of the fat, such as the back.
This aloe vera, rosemary and ghassoul soap is limited production, vegan, organic and not tested on animals. 
It is completely handmade, using a method called cold saponification, which means that the product does not damage the skin.
CERTIFICATIONS:
Registration number as organic producer company: MU-3379/P. Certification body: ES-ECO-024-MU
Bio.inspecta certified under no. 70690
Ecoagrícola El Talayón, SL is a certified organic company according to the EU organic farming regulation.
Aloe Vera, Rosemary and Ghassoul Natural Soap
Rub the soap into the water until you see the soap cream.
Spread the cream on the parts where you want to use the product.
We recommend that for the use of the product on the face, spread it with your fingers or with a sponge.
Rinse with water until the product is removed. 
It is important that the soap does not come into contact with the eyes.
Keep the product away from children. 
It is recommended to store the product in a cool, dry place away from direct sunlight.
After use, leave the product in a place where it can dry.
Aloe Vera, Rosemary and Ghassoul Natural Soap
Aloe vera: cleanses, moisturises and nourishes the skin in depth, without making it greasy. It has healing properties that regenerate the skin. Rejuvenates and fights against acne.
Ghassoul clay: recommended for very sensitive skin. It serves as a skin degreaser, as it absorbs oil, leaving the skin clean and free of impurities.
Coconut oil: its vitamin E content helps to combat ageing by repairing skin tissue. It is recommended for use on dry skin due to its moisturising power. 
Olive oil: contains vitamins E and K that fight against premature skin ageing. Maintains skin elasticity. Moisturises and nourishes. Repairs skin tissue.
Rosemary oil: recommended for use on oily skin as it has disinfectant properties that combat pimples and blackheads. Repairs damaged skin tissue. Contains iron and calcium which help to moisturise and nourish the skin.
Sage herbal oil: contains vitamin C which helps to eliminate wrinkles and signs of ageing. Helps detoxify the skin and improves circulation.
Sweet almond oil: is characterised by its moisturising and repairing effects, as well as its ability to rejuvenate the skin.
Linalool: used to impart odour to the product.
Shea butter: recommended for use on delicate skin as it contains vitamin F and high nourishing properties.
Cocoa butter: contains vitamin E, a great antioxidant that prevents ageing. It serves as a moisturiser.
Rosemary extract: brings light to the skin. Used as a firming agent. Refreshes the skin. Helps to fight acne.
Limonene: due to its pleasant smell, it is used as a fragrance.
All these ingredients are from organic farming. 
Aloe vera, rosemary and ghassoul soap:
Does not contain palm oil
Contains no petroleum products
Sulphate-free
Alcohol-free
No nanomaterials
No irradiated substances
No artificial colouring
No synthetic fragrances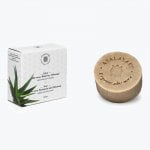 Aloe Vera, Rosemary and Ghassoul Natural Soap