Exfoliating Soap of Aloe vera, Honey & Cinnamon
13/03/2021
Exfoliating Soap of Aloe vera, Honey & Cinnamon
11,50€
This handmade soap contains 16.3 – 17.4% aloe vera extracted directly from the plant. In addition, this Aloe vera Exfoliating Soap contains honey and cinnamon that will enhance hydration and exfoliation on the skin. For daily use for all skin types.
Exfoliating Soap with Aloe vera, Honey and Natural Cinnamon
The Aloe vera, honey and cinnamon exfoliating soap can be used all over the body and is suitable for all skin types. In addition, it is recommended for daily use for a better appearance of the skin.. 
It is mainly composed of aloe vera (16.3 – 17.4%) taken directly from the country's own plantation. Honey is another of the main components that act to moisturise and soothe the skin, helping to regenerate it. Cinnamon, together with jojoba powder, will exfoliate the skin, thus ensuring its hydration. 
This Exfoliating Soap with Aloe Vera, Honey and Natural Cinnamon, has a limited production because it has been created in a handmade way, it is 100% natural and ecological. So if you are looking for a moisturised and itch-free skin, this soap is your solution. As well as having an intense and sweet smell, it is able to cleanse your skin, while moisturising, soothing and regenerating. 
Not tested on animals. Vegan product. Organic.
Contains 100gr.
CERTIFICATIONS
Ecoagrícola El Talayón, SL is a company registered in the Registro General Sanitario de Empresas Alimentarias y Alimentos (RGSEAA) with nº: 26.016474/M
Ecoagrícola El Talayón, SL is a certified organic operator in accordance with EU organic farming regulations.
Organic Farming Registration Number as a producer company: MU-3379/P. Inspection body: ES-ECO-024-MU
Certified by bio.inspecta under No. 70690
Exfoliating Soap with Aloe vera, Honey and Natural Cinnamon
Moisten the soap
Rub with your hands
Once lather is visible, apply to body
If you are going to use it on your face, it is recommended to use your fingertips or a sponge.
Spread the product gently in a circular motion.
Rinse with cold water
Tips for a good conservation of the product:
Leave the soap in a soap dish that allows the product to dry after each use.
Before opening, leave it in its box and store it in a cool, dry place away from light.
Important:
Avoid contact with the eyes 
Keep out of reach of children
Exfoliating Soap with Aloe vera, Honey and Natural Cinnamon
We care about the environment and that is why we work with products whose ingredients come from organic farming.
Aloe vera: its properties help to keep your skin smooth, free of flaccidity and completely hydrated, without greasing. It contains Vitamin C that will help you to look young and luminous.
Ylang Ylang essential oil: oil extracted from the flower of the Ylang Ylang tree. Improves the appearance of skin blemishes. Delays the appearance of wrinkles. Contains anti-inflammatory properties that soothe skin irritations.
Coconut oil: its main components are lauric acid and vitamin E and K, so it will provide the skin with a hydration and luminosity bomb. It also controls oiliness and evens skin tone.
Cinnamon essential oil: not only firms the skin, but also fights acne and prevents wrinkles. 
Bitter orange essential oil: soothes, moisturises and revitalises irritated skin. Helps to lighten blemishes on the body and cleanse the skin.
Almond oil: nourishing oil that solves dryness problems, adding a touch of light to the skin and evening out its texture. 
Rosemary extract: contains healing and anti-inflammatory properties. Its firming effect makes the skin smooth. Refreshes the skin. 
Shea butter: contains vitamins A, D, E and F, which deeply moisturise the skin. It has a regenerating and healing effect that reduces marks, scars and even stretch marks.  
Cocoa butter: reduces the tightness of dry skin. It deeply moisturises the skin thanks to its saturated fats, which help to heal dry and/or chapped skin./span>
Jojoba seed powder: serves for a perfect exfoliation of the skin. Contains antioxidant properties. Treats oily and sensitive skin. 
Cinnamon powder: activates circulation. Cleans clogged pores. Helps prevent ageing.
Soap made using the cold saponification method. An artisanal method by which vegetable glycerine is created, which is used to make the soap gentle on the skin. 
This soap:
Does not contain alcohol
GMO-free
Contains no synthetic fragrances
Contains no artificial colouring
Not tested on animals
Contains no palm oil, no mineral oils, and no mineral oils.
Free of sulphates and petroleum products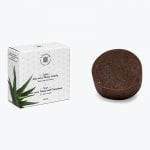 Exfoliating Soap of Aloe vera, Honey & Cinnamon