The Krauter oil 110 herbs & Aloe Vera- Relieves pain
Krauter oil is a product composed of different oils, such as olive oil, aloe vera, anise, fine lavender, blue eucalyptus, etc….
The composition of these natural essential oils, which act as a home remedy for muscle, bone or joint ailments.
The mixture of the different oils has a calming effect, and thus helps to relax the affected area or ailment, in addition to the pleasant aroma that leaves our body.
Krauter oil 110 herbal oil is considered within the Aromatherapy range, for its pleasant aroma and its relaxing, decongestant and toning qualities, as well as being an antibacterial oil thanks to the plants it contains such as Rosemary, Thyme, Peppermint, etc.
The Krauter oil 110 herbs & Aloe Vera- Relieves pain
Just use a few drops of this oil and massage the painful area for at least one minute.
Used for:
Muscular discomfort
Tiredness: massage the oil on the forehead, temples, nape of the neck and scalp.
Excessive sweating
Sore legs
Tired legs
In case you want to appreciate its aromas, you can pour 5 drops on a cloth, or dilute 8 drops in hot water.
If you want to clean the air in your home, just pour 3 to 5 drops in radiator humidifiers.
Another use of this essential oil is to repel insects, just by spreading it on the skin.
It can be used both in adults and children over 5 years old.
Precautions:
Do not apply in case of irritation.
Avoid contact with nose and eyes.
Do not apply on people susceptible to these essential oils.
The Krauter oil 110 herbs & Aloe Vera- Relieves pain
Aloe Vera, Olive Oil, Sweet Orange, Lemon Balm, Fine Lavender, Rosemary, Thyme, Cinnamon, Propylene Glycol, Citronella, Clove, Caraway, Curry, Wild Mint, Cumin, Oregano, Holly, Sage, Bitter Orange, Eucalyptus, Juniper, Scots Pine, Geraniol, Marjoram, Wild Pansy, Cypress, Linalool.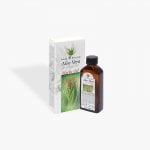 Krauter Oil 110 Herbs & Aloe Vera