DERLUX Rosehip Moisturising Cream
Its main component is Rosehip oil, which has a great moisturizing and regenerating action on the skin.
This Rosehip cream repairs the skin, deeply moisturizing and at the same time leaving an intense nourishing effect on the area. Rosehip also helps to reduce blemishes, scars, stretch marks and soften the marks on our body and face.
Contains 250 ml.
DERLUX Rosehip Moisturizing Cream
Take a small amount and spread on the area to be treated, massage until completely absorbed.
Can be applied on face and body. Reduces irritation and redness in atopic and dry skin.
Precautions:
Avoid the eye area.
DERLUX Rosehip Moisturizing Cream
.
Rosehip: moisturizing, regenerating, anti-inflammatory, helping to reduce irritation and redness. Contains Vitamin A and C, which help pigmentation and collagen creation to reduce the signs of aging.
Transretinoic acid: also known as Vitamin A, used to treat moderate acne.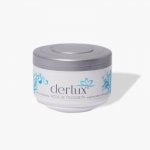 DERLUX Rosehip Moisturising Cream