Aloe Vera and Calendula Soap
This Aloe vera and Calendula soap is perfect for those who have sensitive, atopic, irritated and/or delicate skin. It is recommended for those people who make excessive use of their hands to carry out their work. It is also recommended for more experienced skin types who want to smooth wrinkles.
It can be used all over the body, and daily use is recommended for best results. In addition, it has an antibacterial and anti-inflammatory effect, so if your skin has skin problems, the properties of this soap are ideal for your skin, as it promotes its regeneration.
The soap is handmade and its production is limited. It contains 16,3 – 17,4% Aloe Vera directly from national plantations. This plantation is certified in conversion to Demeter. In addition, its cultivation contributes to a smaller carbon footprint, making the product completely ecological.
Apart from Aloe Vera, this soap contains calendula, a flower that will take care of leaving the skin as soft and clean as possible.
Product presentation:
This handmade soap keeps both its scent and properties intact as it comes wrapped in natural cellophane made of regenerated cellulose, completely biodegradable. You will find the product in a cardboard box.
Ecological product. Not tested on animals. Vegan product.
Contains 100gr.
CERTIFICATES
Certified by bio.inspecta with nº. 70690
Organic Farming registration number as operator: ES-ECO-024-MU Operator number: MU-3379/P
Ecoagrícola El Talayón, SL is a certified organic operator in accordance with EU Organic Farming regulations.
Aloe Vera and Calendula Soap
Soak the soap in the water until you see a creamy lather.
Apply the cream all over the wet body.
If you are going to use it to cleanse your face, we recommend using your fingertips or an applicator.
Spread the cream in circles
Rinse with cold or lukewarm water
Recommendation: 
Leave the product in a place protected from light.
Store in a dry and/or cool place
Once the product has been used, leave it somewhere where it can dry out until the next use.
Keep out of reach of small children.
Do not get product in eyes.
Aloe Vera and Calendula Soap
To help the environment, we work exclusively with products from organic farming.
Extra virgin olive oil: prevents dry skin. Helps to regenerate the skin. Prevents wrinkles.
Coconut oil: increases skin elasticity. Deeply nourishes. Vitamins E and K promote skin regeneration. Provides luminosity.
Aloe Vera Gel: Contributes to tissue regeneration. Anti-inflammatory that can be used on wounds, as its vitamins help healing. Removes dirt from the skin. Acts as a moisturiser and soothing agent.
Shea butter: Nourishes and moisturises the skin. Its vitamins help anti-ageing. Reduces wrinkles, stretch marks and skin blemishes. Acts as a healing agent.
Chamomile extract: Deeply cleanses and moisturises the skin. It has an anti-inflammatory effect that helps the skin to relax, relieving irritation.
Calendula extract: helps soothe chafing and reduce pain. It has healing and regenerative properties that help heal wounds. Moisturises.
This soap:
All the vegetable oils it contains are certified organic and pure.
Does not contain GMO
Contains no mineral oils or palm oil.
No sulphates or petroleum products
Contains no nanomaterials
No synthetic fragrances
No animal testing
Contains no artificial colours
Does not contain alcohol
This soap has been made using a traditional method called cold saponification. This method allows the soap to be as gentle as possible on your skin, leaving an extra softness.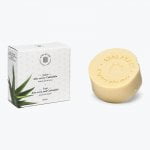 Aloe Vera and Calendula Soap