Samba Water Clean Smart Robot Vacuums and Mops
The Samba Water Clean robot sweeps, mops, scrubs and vacuums all types of floors, from hard floors to carpets and short pile carpets.
In the mopping function, Samba Water Clean incorporates a water tank inside to keep the mop damp and to be able to clean the floor without leaving excess water.
Thanks to its anti-shock function, it helps the robot to detect obstacles and avoid them in order to continue its path and function. It detects dirt for better cleaning.
The Samba robot automatically returns to its base to charge when it detects a low battery level.
Samba Water Clean Intelligent Robot Vacuums and Scrubs Samba Water Clean
Weight: 5,07 Kg
Capacity: 0,5 Liters
Volume: 0,5 Liters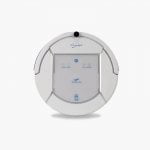 Intelligent Robot Vacuums and Scrubs