Antibacterial Aria Clean with Aloe Vera – Removes Bacteria
Aria Clean, being composed of natural ingredients, such as Aloe Vera and Olive Oil, has a more effective antiseptic action, eliminating impurities from the air and helping disinfection.
It keeps the environment and the garden clean, refreshing and regenerating the air, with the use of the antibacterial Aria Clean, you avoid harmful chemical products for the environment.
Aria Clean antibacterial can be used in the office and at home, it respects the environment and our health.
Precautions:
Do not ingest
Avoid contact with eyes
Keep out of reach of children
Use the spray as often as necessary.
Contains 200ml.
Aloe Barbadensis or Aloe Vera leaf extract, Olive fruit extract, Lavender extract, Eucalyptus leaf, Limonene, Citrus lemon peel extract, Linalool, Geraniol, Mentha Piperita.
Alcohol free, non-aggressive and natural fragrances. Respects sensitive skins.
Certified organic agriculture.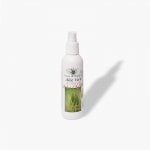 Antibacterias Aria Clean Aloe Vera