Neck Massager with Heat and Vibration
05/04/2021

Neck Massager with Heat and Vibration
99,95€
Enjoy a perfect neck, cervical, shoulder and back massage.
Relieve your contractures and feel as if you had a personal masseur in your own home. The Neck Massager with Heat and Vibration with heat and vibration function, will make you enjoy a sense of relief by releasing muscle tension and taking away neck pain. Not only that, but it is very easy to use.
Neck Massager with Heat and Vibration
At Bienestar y Belleza we care about our customers, that's why we try to adapt and offer easy solutions to everyday problems. This massager can be the solution to improve your physical and emotional well-being.
It contains 4D massage heads that will make you enjoy the massage as if you were with a professional. This is because the heads make bi-directional movements simulating the movements that hands can make. In this way, you will be able to enjoy a perfect massage on your neck, neck, shoulders and back.
The best thing about this massager is its heat and vibration function. The heat that it produces reaches deep into the muscles, providing a soothing and calming sensation. In this way, it improves the body's circulation and as a result, you will feel much calmer. In addition, when it comes to eliminating contractures, this heat effect is very good. With its vibration function, what you will notice is a relaxing sensation, making your muscles completely relaxed, which will favour your wellbeing.
This massager contains an automatic timer, so you don't have to worry about the time, just enjoy. It is very simple to use, you only have to put the massager in the place and in the way you want and press a button to enjoy the sensation without any complication.
Neck Massager with Heat and Vibration
Weight: 1800gr
Power: 24W
Box measures: 54,5 x 23 x 26cm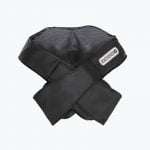 Neck Massager with Heat and Vibration