Bienestar y Belleza Market Gift Card
05/10/2020
Bienestar y Belleza Market Gift Card
Desde: 10,00€
Wellness and Beauty Market Gift Card:
The perfect gift for when you have doubts about what you can give, this product has no expiration date, it is ideal for weddings, birthdays and any event where you want to offer something special.
There are different types of cards, depending on the amount you want to give, but they are all used in the same way and none of them have expiration date.
The Gift Card is valid for any product of Cuídate, Home and Fitness.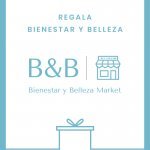 Bienestar y Belleza Market Gift Card