Organic Aloe Vera Gel Cosmos Organic Natural
21/03/2021
Organic Aloe Vera Gel Cosmos Organic Natural
Desde: 17,90€
Cosmos Natural Organic Aloe Vera Gel has been obtained from the most natural aloe vera leaves, cultivated in national fields. It moisturises your skin and regenerates the areas that need it most, thanks to its fast-absorbing formula that repairs your skin in the shortest possible time.
Organic Aloe Vera Gel Cosmos Organic Natural
Choose the most interesting option for your needs. 100 or 200 ml.
Organic Aloe Vera Cosmos Organic Aloe Vera Gel obtained from the most careful selection of high quality aloe vera, 96% of its composition is Natural and Organic Aloe Vera and is not tested on animals.
Aloe Vera cream with a natural gel texture, great product performance and fast absorption due to its quality and nature. It acts as a skin regenerator and dermoprotector.
Some of the benefits of Cosmos Organic Aloe Vera Gel are to illuminate, soften, oxygenate the skin and promote skin regeneration, "with just a drop".
Thanks to its properties as a pure, natural and ecological aloe vera gel we can apply it to any area of the skin, suitable for all skin types, it helps to regenerate and repair atopic skin and to care for all skin types at any time of the day.
It helps us to maintain proper hydration and oxygenation thus helping to prevent premature ageing.
B&B recommends its use:
Dry or dehydrated skin
Dermatitis and skin irritations
Psoriasis
Sunburn
Burns and abrasions
Marks and scars
Closed wounds
Plant or insect bites
Chapped skin and chilblains
Stretch marks
Wrinkles
Spots
Acne
Athlete's foot
Herpes
Warts
Nail care
Scalp irritations and dandruff.
Can also be used as a make-up remover or after shave.
CERTIFICATIONS
Corroborated by its prestigious certifications such as cosmos Ecocert, natura 2000, organic farming regulations of the European Union and luxuryspain.
Use of aloe vera from the natura 2000 network plantation (protected natural area) achieving the lowest possible carbon footprint. 100% made in Spain with national crops.
Not reconstructed through powder or dehydrated. Fresh and active product that maintains its properties and improves its conservation as it is not imported from other countries.
Take care of yourself, take care of the health of your skin, using this certified quality gel that maintains all the properties of the Aloe Vera plant, also with its airfree closure system prevents air from coming into contact with the product avoiding its oxygenation, ensuring greater conservation and durability without the use of preservatives.
All the properties of Aloe Vera in a gel without aggressive compounds, not only for your skin but also for the conservation of the planet.
Organic Aloe Vera Gel Cosmos Organic Natural
It is recommended 3-4 applications per day, but its use is not limited, it can be used as many times as necessary in very small doses throughout the day.
Thanks to its high performance and rapid absorption we can use it in any situation and area of the body, we will not have to wait for it to dry.
In situations of stress, our skin is often affected and may appear spots, dryness, hives... even more so if we have atopic skin, in these situations we can use the necessary applications in the affected area, its use is also recommended after showering or bathing which is one of the moments where our skin is cleaner and disinfected but also more dehydrated.
Organic Aloe Vera Gel Cosmos Organic Natural
Aloe Barbadensis Leaf Extract**, Cellulose Gum, Lavandula Hybrida Grosso Herb Oil*, Glycerin, Benzyl Alcohol, Citric Acid, Aqua (Water), Sodium Hydroxide, Salicylic Acid, Sorbic Acid, Tetrasodium Glutamate Diacetate, Linalool.
Linalool: Monoterpene found in flowers, spices and plants has a calming effect on depression and stress.
Tetrasodium Glutamate Diacetate: biodegradable and of mineral origin used as a stabiliser and preservative.
Sorbic Acid: natural and organic preservative used in food and cosmetics.
Salicylic Acid: Known as the best ingredient to combat pimples, acne, pores and blackheads. Used to treat psoriasis. Promotes bacterial activity, reduces oil secreted by our skin and helps cell renewal.
Sodium Hydroxide: Acts as a cleansing agent and helps to maintain the pH of the product.
Citric Acid: Found in most fruits, it has an antioxidant and ph-reducing effect.
Lavandula Hybrida Grosso Herb Oil: Lavender oil traditionally used as an anti-inflammatory, sensory stimulation, relaxation, anti-inflammatory.
Aloe Barbadensis Leaf Extract: Aloe Vera extract, extracted directly from the plant and maintaining all its beneficial properties for the skin. Many properties are attributed to it, such as anti-inflammatory, moisturising, refreshing and regenerating/repairing.
Organic farming ingredient.
Ingredient from organic farming.
96.46% of the ingredients come from Organic Farming.
98.85% of the ingredients are of natural origin.
Suitable for sensitive skin.
Does not irritate the eyes, passing eye irritation tests.
Does not contain sulphates or petroleum products.
Not tested on animals.
Does not contain mineral oils or fats.
Does not contain synthetic fragrances.
Does not contain artificial colourings.
Does not contain alcohol.
Does not contain GMOs.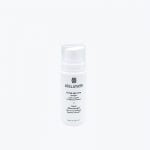 Organic Aloe Vera Gel Cosmos Organic Natural