Odourless Ozone with Ultraviolet
02/03/2021
Odourless Ozone with Ultraviolet
The Ultraviolet Odourless Ozone is a virus elimination system to protect the most intimate areas of the home. It uses ultraviolet light to eliminate viruses accompanied by a minimum percentage of ozone to eliminate viruses that may remain thanks to its intelligent microprocessor that will leave your home protected.
Odourless Ozone with Ultraviolet
The Odourless Ozone steriliser uses UV-C and UV-A technology, this small device contains an intelligent microprocessor that is only activated in the dark, sterilising the toilet and the room automatically.
The UV rays sterilise and destroy all types of bacteria, microbes, microorganisms… that may appear in the room, as well as eliminating odours in just 3 minutes thanks to the emission of ozone.
Odourless Ozone with Ultraviolet
It contains a button on the side, where we activate it manually, a red light will appear indicating that it is on and the green light will turn on when the device is in operation.
You must stay out of the room while the lamp is in operation.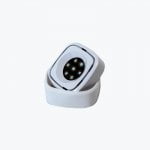 Odourless Ozone with Ultraviolet