Healthy Portable Convection Oven
15/04/2021
Healthy Portable Convection Oven
75,00€
Prepare delicious recipes in the easiest and most convenient way with the Healthy Convection Portable Oven.
Its compact size makes it easy to transport and clean so that you can prepare your oven or low-fat recipes wherever you are. All you need is a power socket and its small size means that it quickly reaches the set temperature, saving energy and time compared to conventional ovens.
Healthy Portable Convection Oven
Defrost, fry, roast, boil, cook, dehydrate, bake with Healthy Convection Portable Oven all these daily tasks will be easier and more pleasant.
Healthy Oven will allow us to prepare delicious dishes with a high energy efficiency and being able to check and have all the control of the process thanks to its container made of pyrex glass with a great resistance to heat, resisting perfectly the maximum temperature that we can obtain of 250°, more than enough temperature for any type of gastronomic elaboration.
Composition of the Convection Oven:
In addition to being made of glass it will considerably reduce the tedious task of cleaning a conventional oven thus making it more practical and quicker to use thanks to its lid the steam returns to the food favouring its hydration during the whole cooking process.
Timer:
It has a programmable timer up to 1H enough time for most culinary preparations, in any case if you need more time is as simple as checking in what state or cooking point is our preparation and re-program the remaining time needed.
Cooking space:
Being a 12L container the space is smaller than in a conventional oven getting the heat to spread and temperatures are reached much faster, thus avoiding having to preheat before cooking the product allowing us also to be able to cut a preparation to finish it at another time or to reheat it when all our guests are already there without requiring much time or extra energy expenditure.
Use of thermostat:
Its thermostat will allow us to program a suitable temperature for each food or different elaborations that we are preparing with excellent precision is able to maintain a uniform temperature throughout the container helping us to cook food in more homogeneous ways.
We also have an emergency button in case it is necessary to stop it.
Healthy Portable Convection Oven
Technical specifications:
Consumption 1200-1400W
Voltage 220-230V
Weight 5,6KG
Tank Capacity 12L
Timer 60min
Temperature 60-250ºC
Frequency 50/60Hz
Special Characteristics:
Made of high resistance pyrex glass.
Programmable in power and time
Easy to clean
Easy to use
Reduces electricity consumption by up to 70%.
High efficiency
También puede interesarte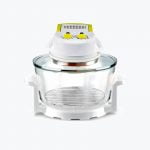 Healthy Portable Convection Oven