Programmable Cooking Robot
The programmable cooking robot helps you in your day-to-day cooking, not only saves you time, but also prepares your favourite dishes professionally. This multifunction robot can cook without the need for you to be present in the kitchen and can even keep your food warm.
This programmable cooking robot has 14 specific programmes, such as frying, steaming, slow cooking, stewing… The capacity of this robot is 6L, coated with non-stick material, which makes it easy to clean and thus offers you greater convenience.
Its memory system allows you to leave the cooker programmed to cook for you at the time you want. You can leave it programmed up to 24 hours in advance, so the food can be hot and ready when you get home. In case of disconnection due to a power cut, the robot will continue cooking from the point where it stopped.
It includes a special pressure management system, so you can choose between the two options of traditional cooking without pressure or pressure cooking. It also includes accessories that are necessary for many dishes, such as a measuring cup, a spoon, a tray for steaming and finally a recipe book so that you don't run out of ideas.
Its ecological system reduces consumption, and it also includes a safety system that locks the programmable robot cooker to prevent it from opening while it is cooking, providing maximum safety.
Programmable Cooking Robot
Features:
Capacity: 6 L
Working capacity: 5,5L
Weight: 6,3 Kg
Net weight: 5,54 Kg
Power: 1000W
Voltage: 220-240V/50-60 Hz
Colour: Black and silver
Heat: 60º - 80º.
Pressure: 0-70 Kpa
Dimension: 39 x 33 x 33 cm
Special features: 14 programmes, memorizes recipes, digital panel, special base support, double safety locking system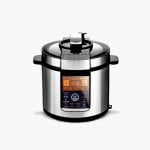 Programmable Cooking Robot