Senso Descanso Total Viscoelastic Mattress
Its viscoelastic together with its super soft foam layers, allows a constant temperature throughout the rest.
This mattress offers a comforting sensation, with the latest technology used in mattresses to add maximum quality to both the Senso mattress and the rest.
Senso thinks of you, and your rest!
| | |
| --- | --- |
| Wide | 105 cm., 120 cm., 135 cm., 140 cm., 150 cm., 160 cm., 180 cm., 200 cm., 75 cm., 80 cm., 90 cm. |
| Long | 180 cm., 190 cm., 200 cm. |
Senso Descanso Total Viscoelastic Mattress
Thickness: 25 cm
High density core
Viscoelastic thickness: 3 cm
Lower side with fabric: 3D for breathability
Upper side: high quality Stretch fabric
Band: brown microfiber with embroidery on the underside
delivered vacuum rolled to avoid all kinds of bacteria and dust mites
Senso Descanso Total Viscoelastic Mattress
| | |
| --- | --- |
| Width | 75 cm., 80 cm., 90 cm., 105 cm., 120 cm., 135 cm., 140 cm., 150 cm., 160 cm., 180 cm., 200 cm. |
| Long | 180 cm., 190 cm., 200 cm. |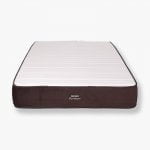 Senso Viscoelastic Mattress