Robot Vacuum Cleaner with Mapping and App
26/10/2020

Robot Vacuum Cleaner with Mapping and App
Robot vacuum cleaner with mapping and app controls the cleaning of your home with four functions and a mapping App that allows your robot to know all the areas of your home.
30 in stock
Robot Vacuum Cleaner with Mapping and App
Double tank and motorized water tank. These two tanks are used differently, one of them will be only for the vacuuming function and the other tank is to keep the water during the scrubbing function, it avoids the accumulation of humidity on the floor.
Auto-recharge system. The robot returns only to its base when it needs it, this way your robot will always be ready to be used.
Intelligent cleaning modes. Its 4 cleaning modes, automatic, corners, zig-zag and spiral, favors the complete cleaning of all types of floors (carpets, short pile carpets, hard floors, parquet…).
Shock sensor, vacuum sensor and room limitation. Samba automatically changes its direction when it encounters obstacles that prevent it from following its path, whether they are vacuum spots or stairs. Samba also allows you to decide which rooms you do not want it to access.
App control.
A control remote is also included.
Robot Vacuum Cleaner with Mapping and App
Height: 79 mm
Weight: 2,4 kg
Diameter: 335 mm
Power: 14,6V
Battery: Lithium Li-ion 2150 mAh
Touch Panel: LED display
Dust tank: 0.50 L
Dust and mop tank: 0,3 L
Water tank: 0.2 L
Charging time: 4-5 hours
Cleaning autonomy: 100 minutes
App Control
The App "Samba Robot" is on App Store and Play Store.
Programmable 7 days a week
Activate or stop it from the app.
Visualize the cleaning area
You can see the time and the cleaning map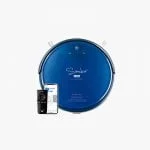 Robot Vacuum Cleaner with Mapping and App