Aloe vera is a type of plant, famous for its many properties and applications. From its thick leaves, the aloe vera gel itself is extracted, as well as the acíbar, a juice obtained by incising the leaves. Considered as a form of natural care, aloe vera extracts have a multitude of uses, being used above all in care, wellness and beauty products.
Among the many uses and applications of aloe, we highlight skin care, facial care and body care.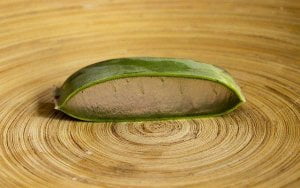 Aloe Vera in skin care
1. Moisturising: Aloe vera gel acts as a powerful moisturiser for the skin, being effective on even the driest skin if applied frequently and continuously, and also provides nutrients to the skin such as iron, magnesium, B vitamins, and vitamins C and E. Its natural origin makes it suitable for all skin types and its effects on certain skin types can be enhanced by mixing it with natural oils.
2. Burns: application of the gel on minor burns helps to alleviate burns due to its anti-inflammatory properties. It is recommended to avoid using products that add additives to aloe vera gel, as they may not be suitable for application to burns.
3. Depilation: the use of aloe vera after depilation helps to avoid irritations such as redness and rashes resulting from the use of blades or waxing.
4. Fungus: helps to reduce the symptoms caused by fungi such as itching and works as a natural remedy against the bacteria that promote fungal growth, preventing their reappearance.
Aloe Vera in facial care
1. Wrinkles: in combination with other basic care such as cleansing the skin, maintaining adequate hydration and having a diet rich in vitamin C and antioxidants, aloe vera helps to reduce wrinkles. The most common form of use in this case is through the application of facial masks made by mixing aloe vera with cucumber or lemon.
2. Acne: the treatment of acne with aloe vera is one of the most widespread treatments with this natural product, in addition to combating it, it prevents the appearance of new outbreaks as it eliminates the excess oil and dirt that favour its proliferation. Treatments are given by applying the gel directly to the affected areas, or as a facial mask. Before applying it to the face, it is advisable to cleanse it with a facial cleansing product suitable for your skin type.
3. Blemishes: Aloe can also reduce blemishes and skin imperfections thanks to a combination of antioxidants, vitamins and lightening substances that act on melanin, the main cause of blemishes.
4. Shaving: as with waxing, its use helps to avoid post-shave irritation caused by razor blades.
5. Warts: applying aloe gel to warts on a daily basis for a few weeks may cause them to shrink or disappear. With warts, it is advisable to consult a dermatologist if the desired effects are not achieved and to find out if what we are treating are really warts.
Aloe Vera in Body Wellness
1. Body aches and pains: Aloe helps to relieve all kinds of body aches and pains, whether they are muscular, joint or even headaches.
2. Haemorrhoids: aloe vera has a triple action on haemorrhoids; it relieves inflammation and therefore the itching and discomfort caused by it, it promotes the healing of the wounds caused by them, and finally, it regenerates the damaged tissues, helping the skin to recover.
Curiosities of Aloe Vera
The aloe vera plant belongs to the group of plants known as "juicy" plants, so called because they have thick parts dedicated to water storage (usually the leaves).
In addition to all the applications already mentioned, the aloe vera plant is also used as an ornamental plant.
B&B recomienda: