Aloe Vera and Natural Lavender Soap
This aloe vera and lavender soap is ideal for the care and hygiene of the driest skins. It is recommended for daily use. It can be used all over the body.
If your skin is atopic, or suffers from dryness or irritation, this soap is what you need. Thanks to its aloe vera content, this soap acts as a regenerator, leaving you with a uniform and better looking skin. Also, if you are looking for a soap that not only improves dry skin, but also conceals skin ageing, this is what you are looking for, as its high content of minerals, vitamins and enzymes will help to fight against premature wrinkles.
Another of the benefits of aloe vera in this soap is that it helps to combat acne-prone skin, controlling oiliness and giving it a better appearance, avoiding shine. In addition, its healing power will help cell regeneration, relieving burns. It also conceals sun spots and helps to filter the sun's rays.
The production of this soap is limited. This is because the 16.3-17.4% of aloe vera it contains is extracted directly from the plant in the country's own plantation. They are responsible for having an environmentally committed crop, reducing the carbon footprint. In addition, its plantation in Red Natura 2000, has the certificate in conversion to demeter.
Contains 100gr
CERTIFICATES
Bio.inspecta certified under No. 70690
Ecoagrícola El Talayón, SL is a certified organic company according to the EU organic farming regulation.
Registration number as organic production company: MU-3379/P. Certification body: ES-ECO-024-MU
Aloe Vera and Natural Lavender Soap
Dissolve the soap in the water
Rub into a dense lather or creamy consistency
Apply to the body in a circular motion
If using on the face, we recommend the use of an applicator or fingertips.
Avoid contact with the eyes.
Rinse with cold or lukewarm water
Keep out of reach of children.
Once the product is opened, leave it in a soap dish where it can dry between uses.
Store in a dry and/or cool place
Store in a place protected from light
Aloe Vera and Natural Lavender Soap
At Bienestar y Belleza Market, we want to guarantee the use of quality products. That is why the ingredients we work with come from organic farming.
Coconut oil: moisturises skin tissues. Helps cell regeneration. Prevents ageing. Provides softness.
Sweet almond oil: helps to fade scars and marks. Retains moisture in your skin. Deeply nourishes and moisturises the skin. Reduces acne.
Lavender oil: revitalising. Regenerates skin cells. Suitable for oily skin. Deep cleanses the skin. Does not clog pores.
Sunflower seed oil: delays the appearance of wrinkles. Vitamins A, C and D create a protective barrier on the skin. Recommended for dry and/or normal skin.
Olive oil: helps fight ageing. Contains vitamins E and K. Lightens skin blemishes. High ability to repair damaged tissues.
Lavender oil: helps to improve skin regeneration. Controls skin oiliness. Prevents acne. Provides scent.
Aloe vera: has a healing power. Relieves pain. Disguises stretch marks. It is a cellular regenerator. Repairs burns. Deeply moisturises.
Shea butter: serves as a sunscreen. Recommended for dry skin due to its high moisturising capacity. Contains anti-inflammatory properties.
Rosemary extract: it is used to combat cellulite. It is an antioxidant. Recommended for sensitive skin. Combats acne.
Limonene: It is a natural antioxidant. Provides odour. It fights against ageing. Reduces inflammations.
Geraniol: Provides a sweet, floral scent. It is an antioxidant.
Linalool: regenerates the skin, relieves pain. Provides aroma. Fights infections.
This soap:
Is vegan
It is ecological
Contains no artificial colours
It does not contain GMOs
It does not contain alcohol
It does not contain nanomaterials
Contains no palm oil or minerals
Contains no petroleum products or sulphates
No animal testing
Does not contain synthetic fragrances
También puede interesarte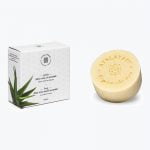 Aloe Vera and Lavender Soap