Spinning Bike Kilimanjaro
01/02/2021

Spinning Bike Kilimanjaro
Easy and effective training at home comes with the Kilimanjaro Spinning Bike. This new spin bike not only helps you stay in shape at home without leaving the house, but you can do it anywhere in your home thanks to the small front wheels that make it easy to move the bike.
28 in stock
High Performance Spinning Bike Kilimanjaro
If you want to perform that intense and aerobic exercise for a workout, this Spinning Bike will allow you to maintain the training in a more complete way, helping to release that stress that generates the day to day, release those toxins and adrenaline at the time of day that you prefer!
Its comfort, thanks to the saddle and handlebars adjustable to each person, allows you to achieve that ergonomic position that helps so much in daily training. The pedals have a toe cap and four supports, thus guaranteeing better stability in the most demanding moments of the workout.
The Spinning Bike contains a lever that allows you to customize the resistance according to the needs of each person, from maintaining a quiet walking speed to a demanding racing speed. In training we like to know how far we have traveled, calories, speed … So this spinning bike contains a small console with LCD touch screen that shows you all this information at the time you want to see it.
High Performance Spinning Bike Kilimanjaro
Stable and resistant structure
Touchscreen LCD display: to be able to visualize all the parameters while you do your daily training
Pulse sensors: located on the handlebars
Saddle: ergonomic adjustable
Aluminum pedals with extra gripping system
Handlebar: ergonomic non-slip
Contains two small front wheels for easy transport to any point in your home
Maximum weight: 120-130 kg
Perfect Balance System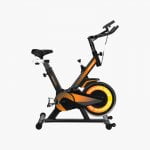 Spinning Bike Kilimanjaro