MiniBike Electric Bicycle
This bike helps coordination and activation of the circulation without leaving home.
The minibike is ideal for all ages, but it is recommended for older people, and people who work most of their time sitting down, in order to help the mobility of the legs.
MiniBike Electric Bicycle
The minibike has a remote control attached to the machine by an elastic coiled cable that allows you to change the function without having to make any effort when bending down.
It has a LDC display with scan function that shows:
The time during which the exercise has been performed.
The distance
The speed
Calories
The revolutions per minute (rpm)
The minibike allows pedaling in the opposite direction.
Its light and compact design makes it easy to move around.
MiniBike Electric Bicycle
Voltage: 110-220V, 60Hz
Maximum weight supported: 120 kg
Weight: 5.50 kg
Programmable time: 1-15 minutes
Speed: 1- 12 km/h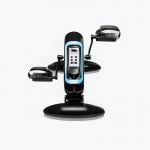 MiniBike Electric Bicycle