Ozone Generator Virus Removal
This Generator is multifunctional, offering the possibility of purifying water and disinfecting the food we consume daily, which unknowingly contain pesticides and phytosanitary substances.
It has an efficiency of 99.9% in the elimination of viruses, bacteria and germs that may be in the environment.
It allows the disinfection and sterilization of baby toys, pets, as well as the disinfection of other objects that may be in the room where the ozone generator is operating.
Ozone Generator Virus Removal
It is an easy to use device, it has 5 programmable functions to better adapt, according to the needs.
Sterilizes objects
Removes unpleasant odors without the need for chemicals
Keeps away flies, insects, cockroaches...
Helps food to stay fresh longer
Ozonizes air and water
The use of ozone in water has different uses:
For personal hygiene
Cleaning of objects and kitchen utensils
To do the laundry
Surface disinfection without rinsing
Precauciones:
Inhalation of large amounts of ozone can cause irritation of the nasal passages, eyes and throat.
Avoid being in the same room where the Ozone Generator is located while it is in operation.
Ozone Generator Virus Removal
Power: 9.3 W.
Voltage: 220-240V / 50-60Hz.
Dimensions: 170 x 70 x 240mm
Weight: 1 Kg
Ozone output: 500mg/hour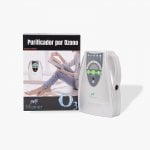 Ozone Generator Virus Elimination