Professional Cooking Robot
13/02/2021
Professional Cooking Robot
The best Premium Programmable Cooker on the market for its ability to adapt to any diet or food. It can cook everything from traditional food to the most elaborate dishes on the market. Become a professional chef with the professional cooking robot.
Professional Cooking Robot
The Professional Cooking Robot is intelligent, it will help you to complement your kitchen with its multiple functions, thanks to this robot, you will have the necessary help taking advantage of all the features and recipes that it offers you, cooking for you and saving your valuable time.
This robot can make for you different dishes such as starters, main courses, sauces, desserts, milkshakes, creams… incorporating with it, an extensive recipe book so that you can choose from a wide variety of dishes.
The professional cooking robot cooks by and for you, with 14 functions and 19 Premium programmes, it can memorise your favourite recipes, so you don't have to search through the wide variety of recipes. In addition to shredding, grating, kneading, chopping, stirring, whipping… it also allows you to fry food by removing the blades inside.
The anti-fingerprint stainless steel jug, with a capacity of 3.5L, has a safety locking system and a top opening to introduce food more quickly and easily. The cutting system with removable blades has a high quality design for better efficiency, to achieve the best textures in your dishes.
Safety in the kitchen is important, which is why this food processor incorporates a maximum control system to provide greater safety in your kitchen, thus avoiding accidents when grinding at high temperatures. It has a 60º limitation to avoid this type of accident.
It contains a steel kneading blade and butterfly, to make the mixtures of your perfect recipes, thanks to its design, makes its function easier, and with this great opportunity to save time and kitchen companion, includes a high precision scale to measure the perfect amounts and get your favourite recipes.
Professional Cooking Robot
Features:
Net weight:9.02 kg
Weight:9.15 kg
Colour: White, grey, silver
Voltage: 220-240V / 50-60 Hz.
Power: 1700w
Heat Power:1000w
Motor Power:700w
Jug capacity: 3,5 L
Working capacity: 2L
Blade speed: 10 levels from 60 to 6500 RPM
Special features: 19 programmes, memorises recipes, digital panel, special clamping base
También puede interesarte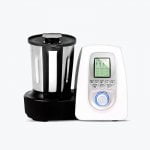 Professional Cooking Robot