Ultrasound Body Treatment
09/05/2021
Ultrasound Body Treatment
This ultrasound body massage device will become an essential element in your daily routine. Its effects are incredible, it helps to reduce fat in the most difficult areas, eliminates and cleanses impurities from the skin and reduces the appearance of wrinkles, while relaxing you with a pleasant massage.
Ultrasound Body Treatment
Enjoy the benefits of a professional Ultrasound Body Treatment from the comfort of your home. Give yourself a break, relax and improve your well-being with this ultrasound body massager. This body massager has an elegant and ergonomic design, which makes it particularly comfortable to use. This device offers 5 functions in 1.
Functions
Ultrasound: Its powerful speed of 3 million times per minute makes it the ideal device for those areas that need to be carefully massaged. Ultrasound is used to perform a cavitation massage that helps to combat cellulite and localised fat, reduces stretch marks, scars, the appearance of moderate acne and reduces varicose veins. It also stimulates blood circulation, improving lymphatic drainage which helps to eliminate liquids.
Ion + (cations) / Ion – (anions): Clean and eliminate impurities from the skin, favouring the absorption of nutrients and active ingredients. It also oxygenates, repairs and moisturises the skin, as well as stimulating blood circulation, improving muscle tone and preventing premature skin ageing.
Photon function: Through LED emission in different waveforms.
– Red LED light (620-630 nm) increases the production of collagen, which is an essential protein in the skin repair process. This light is the most suitable for preventing skin ageing, as it restores the dermal matrix by increasing the activation of fibroblasts.
– Yellow LED light (580-590 nm) is responsible for improving the quality of the skin, improving its texture, leaving it smooth and free of imperfections.
– The blue LED (460-470 nm), this light is indicated for treating mild-moderate acne. This type of light has the ability to penetrate the skin and destroy the bacteria that cause acne, thanks to its ability to produce oxygen radicals.
The device also includes a 250 ml PH-neutral conductive gel for correct massages. In addition to enhancing the experience by lubricating the device, it acts as an anti-sensitisation shield and also helps to keep the device in better condition.
ULTRASOUND BODY TREATMENT
Peso: 1kg
Dimensiones: 58 x 63 x 24 cm
Color: Granate
Frecuencia cavitación: 3 MHz
Voltaje entrada: AC 100-240V 
Voltaje salida: DC 5V, 800 mA
Peso: 135 g
Medidas: 178 x 48 x 45 mm
Incluye: Gel conductor para ultrasonidos (250 ml)
Características especiales:
Masaje cavitación, masaje térmico, emisión de ultrasonidos, emisión LED en 3 frecuencias, emisión iO
Weight: 1kg
Dimensions: 58 x 63 x 24 cm
Colour: Maroon
Cavitation frequency: 3 MHz
Input voltage: AC 100-240V
Output voltage: DC 5V, 800 mA
Weight: 135 g
Dimensions: 178 x 48 x 45 mm
Included: Conductive ultrasound gel (250 ml)
Special features:
Cavitation massage, thermal massage, ultrasound emission, LED emission in 3 frequencies, iOnes emission, 5 functions in 1.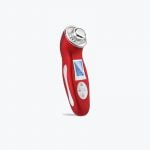 Ultrasound Body Treatment