Galvanic Facial Treatment
18/04/2021
Galvanic Facial Treatment
Enjoy this massager used by beauty professionals adapted for home use. It is specially designed for the face as it is non-invasive. It has 3 different heads that guarantee noticeable changes after the first use, you will notice your skin softer and more hydrated and you will see how expression lines disappear. This facial treatment is safe and painless.
Galvanic Facial Treatment
The galvanic facial massager has been designed so that you can enjoy a professional beauty treatment in your own home as you would in any beauty and aesthetic centre.
Incorporating this device into your daily routine guarantees incredible results. The galvanic component energises and regenerates the skin, while the 3 heads guarantee an improved skin appearance from the very first use.
PHASES
The massaging action consists of 4 different phases of 4 minutes each by means of 3 different heads. This massage is carried out very gently, producing a relaxing effect that improves our well-being. The phases of the massaging action are as follows:
Ion head: Deep cleansing. In this first phase it is important to cleanse the skin in depth to improve absorption and increase the effects of facial creams and serums.
Head Ion + : Deep moisturising. Improves the absorption of the treated area thanks to the previous cleaning step of negative ions.
Anti-wrinkle head: Smoothes and tightens the skin in the massaged area.
Low frequency head: Fully recovers the energy of the applied area.
CURRENTS
The galvanic facial massager has 3 different programmes that make use of 3 types of painless currents:
Galvanic currents: This is a continuous current that intensifies the absorption capacity of the skin.
EMS: This is a totally imperfect electro-stimulation that tones the facial muscles, leaving a firm face.
Micro Currents: This is a variable alternating current that blurs the appearance of wrinkles.
The results of the galvanic massager facial treatment are visible in the short-medium term with continued use. The device has been designed and manufactured with excellent quality and environmentally friendly materials.
Galvanic Facial Treatment
Device Features:
Weight: 1 kg
Colour: Gold
Ultrasonic frequency: 3 MHz ± 5%.
Power: 14 W
Voltage: 100-240 V
Battery: 800 mAh
Weight: 135 g
Dimensions: 178 x 48 x 45 mm
Special Features:
Galvanic massage, ultrasound emission, thermal massage, 3 heads, 3 differentiated programmes, 4 functions in 1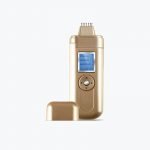 Galvanic Facial Treatment