X-terilizer Ozone Generator with HEPA Filters
X-terilizer is made to sterilize all areas of our home and get rid of all kinds of viruses, bacteria, microbes that can affect us. Its application eliminates viruses, spores, fungi, mites and other pathogens from the air and water, reaching 99.97% effectiveness.
It has four filtering and disinfection stages
Pre-filter, HEPA filter and cold catalyst: where it sterilizes, disinfects and eliminates viruses, bacteria, microbes… at 99.97%.
Activated carbon filter: absorbs and eliminates bad odors and toxic gases.
Ozone lamp O3: deodorizes without fragrances
Anion emission: minimizes contagions, common diseases and improves the ambient air.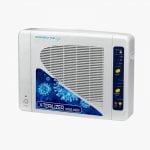 X-terilizer Ozone Generator