Biofield Circulatory Massager With Electrodes
05/10/2020

Biofield Circulatory Massager With Electrodes
Biofield circulatory is a revolutionary product on the market that stimulates the muscles to help improve blood circulation.
Out of stock
Biofield Circulatory Massager With Electrodes
This device uses electrical impulses that activate the nerve endings in the feet, thus promoting circulation in both feet and legs. It uses electrodes on the acupuncture zones found on the feet to reduce any signs of inflammation.
Contains a lumbar belt to reduce back pain. It includes electrodes that can be used on different parts of the body, helping to eliminate toxins, reduce stress and help to lose weight while feeling a pleasant massage.
Thanks to the remote control, it allows you to program the function that is most optimal without the need to bend down.
Instructions for use

Biofield circulatory has different uses:

Reduces swelling of varicose veins
Reduces pain
Arthritis
Leg and foot ulcers
Stress and tension
Prevents thrombosis
Plantar fasciitis
Lymphedema
sedentary lifestyle
immobility
Circulation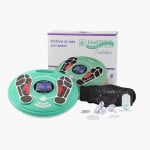 Biofield Circulatory Massager With Electrodes