Douro Folding Running Treadmill
26/10/2020
Douro Folding Running Treadmill
The high-tech Duoro Folding Running Treadmill with which you can train professionally from home and with which you will not need to go to the gym or be aware of the weather forecast to go running or walking.
Best of all, you won't have to worry about space, as it is foldable, comfortable and easy to use. If you are looking to have a home gym or simply start or increase your exercise routine with a home running machine, this is the solution.
28 in stock
Douro Folding Running Treadmill
There are several health benefits of running or walking, and at Bienestar y Belleza Market we know it. That's why we sell products that improve wellness, such as this Duoro Folding Running Treadmill aimed at all ages, since you will be the one who decides the pace you want to take.
With this treadmill, not only will you be able to get fit from home, but you will also benefit from the advantages of daily exercise, such as: preventing diseases, reducing stress and/or helping to strengthen joint health. In addition, exercising from home improves your concentration and memory, and gives you a sense of security and happiness.
Worried about space? You don't have to be. This treadmill is foldable and stores easily. It has wheels and safety clamps that will help you move it to the place you want in the house without hurting yourself in the attempt. You only have to look where you want to put it and unfold it, and when you finish your routine you put it back in the place you want. All in an easy and simple way.
Whether you are one of those who like to exercise at high intensity, as if you are one of those who prefer to get fit in a quieter way, this treadmill is ideal. It contains 12 training programs, where you decide how far you want to go, in addition, you can set up a personal manual program for you, where you will mark the goals you want to achieve and where you can observe your progress. All this in the safest possible way, as it contains a magnetic emergency braking system and a sensor where you can observe your heart rate.
Also, thanks to its LCD screen, you will be able to observe how you are getting closer to your goals, or if on the contrary, you have to increase the pace. This is thanks to the fact that on its screen you will be able to observe the calories, distance, speed and time. In addition, if you are one of those who can not run without music, this Digital Treadmill is compatible with MP3 so you can enjoy your workout extra.
Go ahead, put on your running shoes and achieve your goals!
Douro Folding Running Treadmill
Smart Fit Digital LCD Display
Display functions: calories, time, speed, distance, MP3 and heart rate
Contains 12 training programs and one configurable manual program
Easy to store as it is foldable and includes wheels and security clip
Magnetic tilt and safety system
Adjustable speed from 1 to 12 Km/h
Emergency brake system
Heart rate sensor
MP3 compatible
Cell phone holder
1.5 HP motor
Two speakers
Beverage holder
Douro Folding Running Treadmill
Gross Weight: 37 Kg
Net Weight: 32 Kg
Maximum Supported Weight: 110 Kg
Maximum Speed: 12 Km/h
Voltage: 220-230V
Power: 1,5 HP
Frequency: 50-60 Hz
Control Panel: LCD Smart Fit Digital
Belt Measurement: 110 x 40 cm
Folded Tape Measurement: 52 x 63 x 130 cm
Belt Measurement Unfolded: 132 x 63 x 116 cm
Box Size: 132 x 650 x 240 cm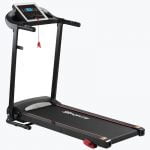 Douro Folding Running Treadmill